THEIR EXTRODINARY FRIENDSHIP TRANSFORMED AN EMPIRE
As Mrs. Brown begins, the year is 1864, and the British government is in dire turmoil. The Queen's relentless dark mood has left a pall over the nation. Her popularity among the people has begun to wane and calls have gone up in Parliament to abolish the Monarchy forever. Meanwhile, the Queen remains in exile, her every need tended to by servants.
In desperation Sir Henry Ponsonby (Geoffrey Palmer), the Queen's Private Secretary, summons John Brown (Billy Connolly), the Royal Family's loyal Scottish hunting guide and servant, in the hopes of cheering her. The Queen has fond recollections of days with Albert at their holiday home in Balmoral, Scotland, where Brown has long been a servant and caretaker of horses. Ponsonby hopes that Brown will not only bring memories of happier days back to the Queen but also that his presence will encourage her to take some exercise and start to emerge from her mourning.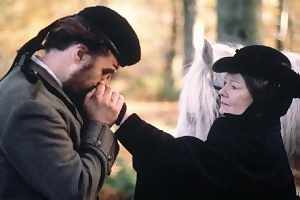 Brown's arrival causes immediate upheaval throughout the Court. Into this world of silent lunches, people whispering in hallways, ladies-in-waiting scurrying behind their Queen, comes a man with no regard for such conventions. A Scot of fierce spirit and pride, Brown is not one to hold his tongue for anyone, not even his Queen. He speaks his mind and does as he pleases, turning the tight structure of Victoria's household upside down. Yet, day by day, Brown's insolence seems to be working a strange magic on the Queen. For the first time in years, the Queen finds herself reacting emotionally - reacting to the only person in her midst who does not treat her with kid gloves or abject fear.
Spurred on by Brown's insistence, Victoria begins to ride again, then to smile, then to spend long days walking with and confiding in John Brown. Despite the stark contrast in their social status, and the impossible barriers of class, politics and social rules between them, Victoria and John are drawn to one another as two people who need the same things: loyalty, intimacy, affection. They develop a bond unlike any either has experienced before. Brown quickly becomes the Queen's most trusted companion. But even as the Queen returns to the wonders and pleasures of being alive, rumors of an affair begin to scandalize polite society and a crisis in the Monarchy seems inevitable.
Determined to protect Victoria from a hostile Court and potentially dangerous public, John Brown refuses to let the Queen out of his sight. He becomes obsessed with her safety and with his own role in keeping her from harm. He orders around courtiers and his fellow servants alike, hatches elaborate security schemes and makes a powerful enemy in Victoria's eldest son, Prince Albert, who bitterly resents the lowly Brown's undue influence.
Meanwhile, Victoria's absence from politics is having a detrimental effect on the country's government headed by Prime Minister Benjamin Disraeli (Antony Sher). With elections just around the corner, Disraeli needs the Queen's support.
A man of renowned charisma and Machievellian powers of political persuasion, Disraeli realizes there is one secret weapon that can assure the Queen's help: John Brown. In a secret meeting on a remote Scottish loch, Disraeli convinces Brown that there is only one way to truly save Victoria from danger: to have her return to public life and squelch all rumors of an unseemly affair.
Now John Brown must make the ultimate sacrifice - to give Victoria back to the nation that needs her, at the cost of his own heart. It will not be easy and will come at great peril, but John Brown can do no less for the woman he loves and the Queen he serves.
THE TRUE STORY!
The true story of Queen Victoria and the servant John Brown is the story of an extraordinary friendship like no other - the story of a man and a woman from utterly opposite extremes of experience who touched one deeply; the story of a woman's reawakening and a country's unfolding into the modern age; the story of how a passionate friendship threatened to topple a monarchy and how a lovelorn sacrifice changed a nation.
In the Winter of 1861, a remarkable event occurred in Great Britain: the nation's royal ruler, Queen Victoria, disconsolate over the death of her beloved husband and mentor Albert, went into a deep and dizzying depression, disappearing from all public view.
The once beloved Queen soon became known as The Widow of Windsor, a secretive, lonely figure. No one could lift her depression - not her nine children, not her loyal staff, not her adoring public. Until one very unusual man entered her life: the Scottish servant John Brown.